Sacred Storytellers Writing Retreat
9/15-9/21
Step into ease and flow as you birth your soul book among the beautiful Blue Ridge Mountains.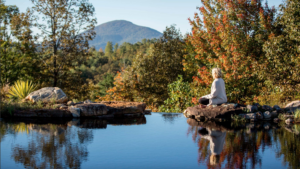 Give yourself the gift of sacred, spacious time to BE. So you can write from a full cup.
Receive energetic and practical support and step boldly into your next chapter as an author and leader in your field.
You're here because you have a book idea that's bursting out of your heart. It's about your big work in the world, or your personal journey, or perhaps a combination.
Maybe you've started writing already. Or have hundreds of notes on your phone. Or maybe you simply feel called to speak your truth and share your story with the world, even if you've never written a book before.
You want to write this big, bold, powerful book, and you want to do it without…
… feeling forced or heavy— like it's an obligation you know you'll procrastinate from
… waiting another 1 or 5 or 10 years until you "have more time"
… having to stick to a rigid structure that cramps your creative style and sucks your energy
We're Annette and Megan, and we believe in making the journey of writing your book just as joyful as the experience of sharing it with the world.
Annette is a Somatic Soul Guide & Publisher and Megan is an Intuitive Writing Coach & Story Magician. Together, we help you activate your ideas, your energy, and your flow so you birth your soul book with ease.
Having worked with dozens of authors, we know that successfully writing, publishing, and promoting a book all comes down to one surprising thing:
How much you're enjoying the process.
If you're not enjoying the journey, when it comes time to publish and promote your book, it's going to feel heavy.
Maybe you've already experienced this heaviness in your writing journey as…
starting and stopping several times
feeling stalled and uninspired
worrying that you won't finish
beating yourself up for not being further along by now
Time to let it all go, Love.
When you detach from the outcome and enjoy the journey, you open up to play and possibility.
You step into massive self-trust, and you're simply present to the experience.
This is when the really big shifts take place. Those "out of the blue" lightning bolts of inspiration hit. Those full-body-chills ideas start to flow.
You feel so clear about what to write and how to allow it all to unfold.
And that's when you experience powerful results.
Including…
✅ Accommodations in Elohee's tranquil, modern cottages.
✅ All meals prepared with love and intention from locally-sourced ingredients.
✅ The option to purchase a massage or reiki session in Elohee's luxurious spa
Imagine a week of tranquility and possibility.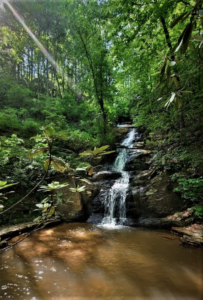 No dishes to wash, kids or partner to look after, or emails to take you away from your big work.
Instead, you awake to birdsong and the light of the sun coming up over the mountains. You step from your cottage into Mother Nature's welcoming arms, and stroll along a quiet path to a healthful and delicious breakfast. With no clean up afterward.
Throughout your day, you receive the support and guidance to allow your book to take shape. You're invited into rituals and writing practices that unleash your creativity. And also given plenty of downtime to write, read, reflect, meditate, move your body, and reconnect to your spirit.
Your evenings are filled with a sense of calm satisfaction, knowing that you're here, doing the work, following the calling of your soul and what she wants to create.
This is your invitation to create from your most joyous place! To come on retreat with your creativity and allow her to whisper all her best ideas in your ear.
We're here to support you on the journey so you have what you need to move forward.
It's just up to you to say YES to you, YES to your book, YES to your dream.
With love,
Annette & Megan